High Quality Tours
We offer fantastic trail riding with many options. We tailor to your needs, both in group sizes and tour content!
Our horses are of high quality, and we have organic food and a collaboration with Lögnäs farmhotel or Margret torp guesthouse. Welcome out for a ride!
» Learn more about our riding packages
Ride and stay comfortably
In collaboration with Margaret Torp guesthouse, or Lögnäs farmhotel, we offer a multi-day riding holiday. Stay and dine luxuriously at the inn, and ride on our well-trained horses in the lovely nature!
» Learn more about our riding holiday package
Bring your own horse and stay comfortably in Spelmansgårdens Airbnb. Here we have beautiful trails, perfect if you lack them where you live or if you just want a change of surroundings.
» Learn more about our Bed & Box Package
Spelmansgårdens riding camps
This year's camp offers music for the young, long forestridingtours and individual feedback for adults.
» Learn more about our riding camps
Riding school lessons
On our highly trained and friendly Icelandic horses, you will learn the basics of riding, join the continuation group, or for those who want, the race teams.
» Riding school & lessons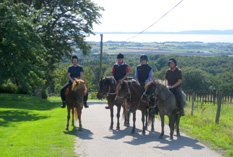 Getting here
Map and directions can be found under the tab » Contact us.