Enjoy Sweden's Beautiful Countryside On Horseback
Travel & Ride - stay in high-class inn!
Along winding paths and small roads, through forests and past shimmering lakes on our safe and balanced horses - the Viking horses that in the 800s were shipped over to Iceland and now have returned to their home in Sweden!
Always in small groups and always with a guide. Long lovely rides, through wonderful scenery, on cooperating Icelandic horses. You get a thorough review of how we handle and ride our horses, and the chance to get acquainted, and get to know all the horse's gaits before we ride out.
We train our horses with a variant of Horsemanship we've learned from John Moore and many hours of personal experience.
<3
Superb accommodation
The accommodation is at Margretetorp inn. Once you've booked a riding holiday package with us you get a discount on accommodation and food with them, sumptuous dinners from the Swedish and Scanian kitchen. At Spelmansgården, We can also offer a jacuzzi and a massage in our massage chair.

Day 1
Arrival at Spelmansgården during the day. Time to take in the environment, become acquainted with one's fellow riders, settle in at your accommodation and visit the horses in the pasture. You arrive by train to Ängelholm or by plane to Ängelholm Airport. Notify us of your arrival time by phone or email. For those who travel by car there are maps to print out. Lunch and dinner are served as guests are arriving.
Day 2
After breakfast we have a thorough review of how we handle and ride our horses. We ride a lot with our seats and have Horsemanship as the basis for all contact with the horses, which means that we start from the horses' way to communicate and react. We learn to become good leaders for our horses.
After lunch it's time to get the horses and review what we have learned from this morning. When we ride into the forest we have a simple security rule. We do not trot until everyone has full control of their horse while walking, we do not canter until everyone has full control of the trot. And do not worry, you will have time to both trot and canter in your days with us, we just want it to be and feel safe for everyone, so everyone can enjoy the wonderful landscape we ride through.
Day 3
Now we ride through the woods on a long ride. We cross murmuring brooks and pass through beautiful beech forests. Lunch is taken out in the wild with chandeliers, fine fabrics and organic vegetables with delicious salmon and homemade bread. In case of bad weather we sit in the shelters.
Day 4
Now you know our horses, you might have had to change horses during the week to get the best fit. On this day we ride on a long beautiful tour with amazing lovely canter and tölt distances. Lunch is served again out in the countryside with stunning views.
Day 5
Departure of participants during the day. Opportunity for shopping for local handicrafts.
Booking
Book your tour directly through the Internet, by mail or telephone. Your spot is then provisionally booked for you, and we will send a confirmation.
Confirmation
As soon as you receive your booking confirmation, please pay a booking fee of 100 Euro / 1.000 SEK. You can also pay an optional cancellation insurance fee of 20 Euro / 200 SEK in addition to the tour price. The remaining amount is to be paid at least 30 days before departure. If you book less than 30 days before departure, the full amount is to be paid immediately.
Cancellation
If you change or cancel your booking more than 30 days prior to departure the booking fee will be kept as payment. If a booking is changed or cancelled later than 30 days but earlier than 14 days prior to departure 50 % of the full cost of the package will be charged. In case changes or cancellations are made later than 14 days prior to departure the full price of the package will be charged. If there are suitable spots open on another date any payments already made can be counted towards that package.
Cancellation insurance
If you opt to pay for our cancellation insurance you will be charged only a fee of 20 Euro / 200 SEK in the event that you or anyone in your party cancels due to illness. You must prove your illness by a medical certificate. The insurance also applies if a close relative falls ill or if something unexpected occurs that prevents your holiday. For example a fire in your home.

Margretetorp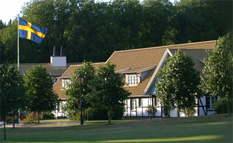 "- one of the oldest inns in the north"
Margretetorp is located very strategically along the natural and important route from Skåne to the rest of Sweden, and of course Norway. at the foot of Hallandsåsen, travelers have halted at all times for food and rest, both before and after the heavy and arduous journey across the sandy ridge.
There is evidence that there has been an inn on the site as early as the 1300s. Some data suggests that the inn is even older.
» Learn more at margretetorp.se
Good to know
The offer is valid for 1-5 people. Transfer from the travel center - rail / air in Angelholm is included.
The horses are handled and ridden with remission and most have luxury saddles tested for both horse and man under tough conditions in long rides over rough terrain. To go on a Fairytale tour requires a mastery of the horse in walk, trot and canter. We often ride more than four hours per day. The tours are held both in Swedish and English.
Insurance
We are fully insured by Sveland and Folksam. However, each guest should make sure that he or she has adequate insurance coverage. Minimum age 12 years accompanied by an adult with proven riding skills, otherwise 18 years. Maximum weight 90 kg.
Departures every Thursday from May to September.
Safety
We do everything in our power to ensure your safety during your visit. Our horses are trained to be very safe and secure, we always go over security before an activity starts.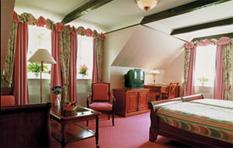 Prices
5 days SEK 8 400.-
Additional days SEK 1 600.-

3 days SEK 6 000:-